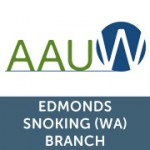 Your membership makes AAUW's powerful voice even stronger on critical issues affecting women and girls right here in our neighborhoods. You'll be able to work with an engaged and interesting group of women who enjoy networking and socializing.
If you are looking for a way to make a difference for women and girls, then membership in AAUW is the right choice for you!
Membership options for Edmonds SnoKing Branch of AAUW:
Regular membership is open to anyone holding an associate's (or equivalent, e.g. RN), bachelor's, or higher degree from a regionally accredited college or university.
In joining our branch as a regular member, you also become a member of the national and state organizations.
If you support our mission but don't have a degree from a college or university, we welcome you as a Friend of the Branch. Use the Contact Us form if you wish to become a Friend of the Branch.
E-student membership is free for all undergraduate students enrolled in full- or part-time programs at an AAUW college/university partner. (Edmonds College is our college partner.) Each e-student affiliate also receives a free full membership to AAUW for one year as a graduation gift.
Yearly dues for membership in our branch of AAUW are:
Regular Member – $95 (Of this amount, $72 goes to national AAUW and $59 is tax-deductible.)
Friend of the Branch – $13
How to Join AAUW and the Edmonds SnoKing Branch
If you are joining AAUW for the first time and want to pay for your membership with a credit card, click here to set up an AAUW account.  (Here are some step-by-step instructions.)
After you have set up your AAUW account, remember to add State (Washington) and Branch (WA9046-Edmonds SnoKing) memberships.
If you want to mail your first-time membership fee, use Contact Us to request a membership form that you can fill out and mail with your check.