As part of the American Association of University Women, the Edmonds SnoKing Branch is committed to the AAUW mission—advancing gender equity for women and girls through research, education, and advocacy. We value Integrity, Inclusion, and Intersectionality, as well as a diverse membership.
September Meeting Features Representative April Berg
Our Saturday, September 11 program was on "Women as Leaders: How and Why They Take the Reins," featuring April Berg, WA State legislator for the 44th District.
You can view the recording of Rep. Berg's presentation here.
AAUW Statement on Supreme Court Ruling
"AAUW strongly condemns the U.S. Supreme Court's refusal to suspend implementation of a dangerous Texas law that would virtually strip individuals of their well-established, Constitutional right to control their bodies and erode their economic security." Read more.
Tribute to Liz Sears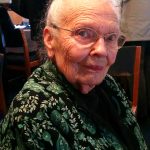 You can still add a tribute to Liz Sears and make a donation in her honor to Foundation A3E.
2021-2022 Calendar
Information about our 2021-2022 programs is available. Want to join us at a meeting or event? Use the Contact Us form to request more information.